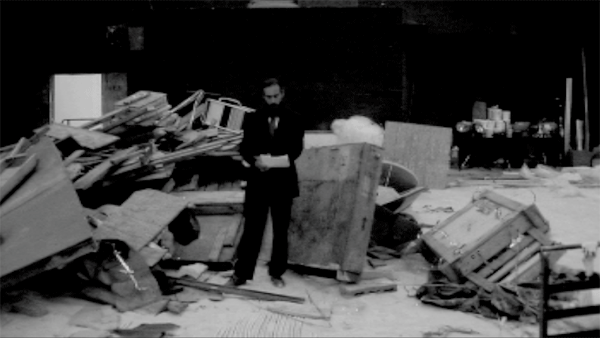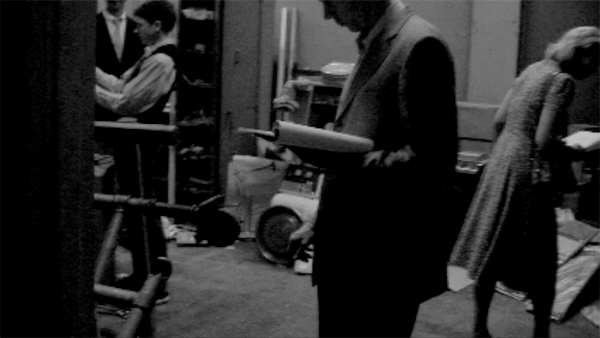 The Book of the Record of the Time Capsule of Cupaloy Made to Withstand the Effects of Time
In collaboration with Hồng-Ân Trương
Three-channel digital video installation
Black & white, sound
30:00
2009 – ongoing
This three-channel video re-stages two events: the 1947 UN debates over Resolution 181, the decision that partitioned Palestine into a Jewish and an Arab state; and scenes from a fictional film, The Middleton Family, made for the 1939 World's Fair. The Middleton Family pits an anti-capitalist artist boyfriend against an all-American engineer who believes in improving society through corporations. The video takes place in an abandoned building at Flushing Meadow, New York, the original site of both events. The Middleton Family eerily foreshadows the ultimately destructive force of Western diplomacy based on power and capital. While they took place over 50 years ago, the UN debates around the partition of Palestine chillingly contextualize today's Mid-East conflicts. What does it mean to utter these speeches again today? By re-performing parts of the UN debate, and the Middleton Family drama, the video acts as a kind of excavation of this historical site, exploring the concept of ruins as a relevant allegory for understanding today's present around questions of diplomacy, the economy, and technology.
Kissinger/Nixon
In collaboration with Hồng-Ân Trương
Performance
2011
"What? A million pounds of bombs. A million pounds of bombs.
Well, no, they can bomb the bejesus out of us all over North Vietnam except in the Hanoi and Haiphong area.
Goddam, that must have been a good strike."
Truong and I read the transcript of a well known recorded phone conversation between Richard Nixon and Henry Kissinger from April 15, 1972 in which they strategize the continued bombing of North Vietnam. Reversing pronouns so that I's become you's and we's become they's etc, subjectivity is confused, and the absurdity of language points to the irreconcilably cruel logic of the situation.
White Rhino
Super 8 transferred to digital video
Color, no Sound
5:09
2013
Aid
Digital video
Color, No Sound
4:49
2015
Self Science Research Institute
In collaboration with George Monteleone
Three digital video commercials, website
Color, sound
Total runtime: 05:40
2005
SSRI, or the Self-Science Research Institute, is a fictional company dedicated to creating devices that ease social anxieties. Among their products are the Self-Monitor, a device that plays back sound after a short delay, the Self-Rememberer, which analyzes and warns you of your emotions based on facial expressions and brain waves, and the Other Monitor, which mediates all visual and aural input through recording devices.
Made in 2005 and meant as an exaggerated parody, the videos have proven prescient to contemporary technologies that mediate our realities and interpersonal relationships, monitor our bodies, and provide constant feedback to how we appear to the outside world.